Regular price
$118.50 USD
Sale price
$89.25 USD
Unit price
per
Sale
Sold out
What's Included:
RESERT REVITAL-OX R60 Solution Test Strips (1 or 2 Bottles)
Product Features:
Exclusive Design: Chemical indicator tailored to determine if the concentration of hydrogen peroxide in RESERT High Level Disinfectant Solutions is above the minimum recommended concentration (MRC) of 1.5%.
EPA-Registered: Meets stringent standards for disinfection.
Made in the USA: Ensures top quality and reliability.
Support: Dedicated customer care team available 24/7 for assistance.
Share
View full details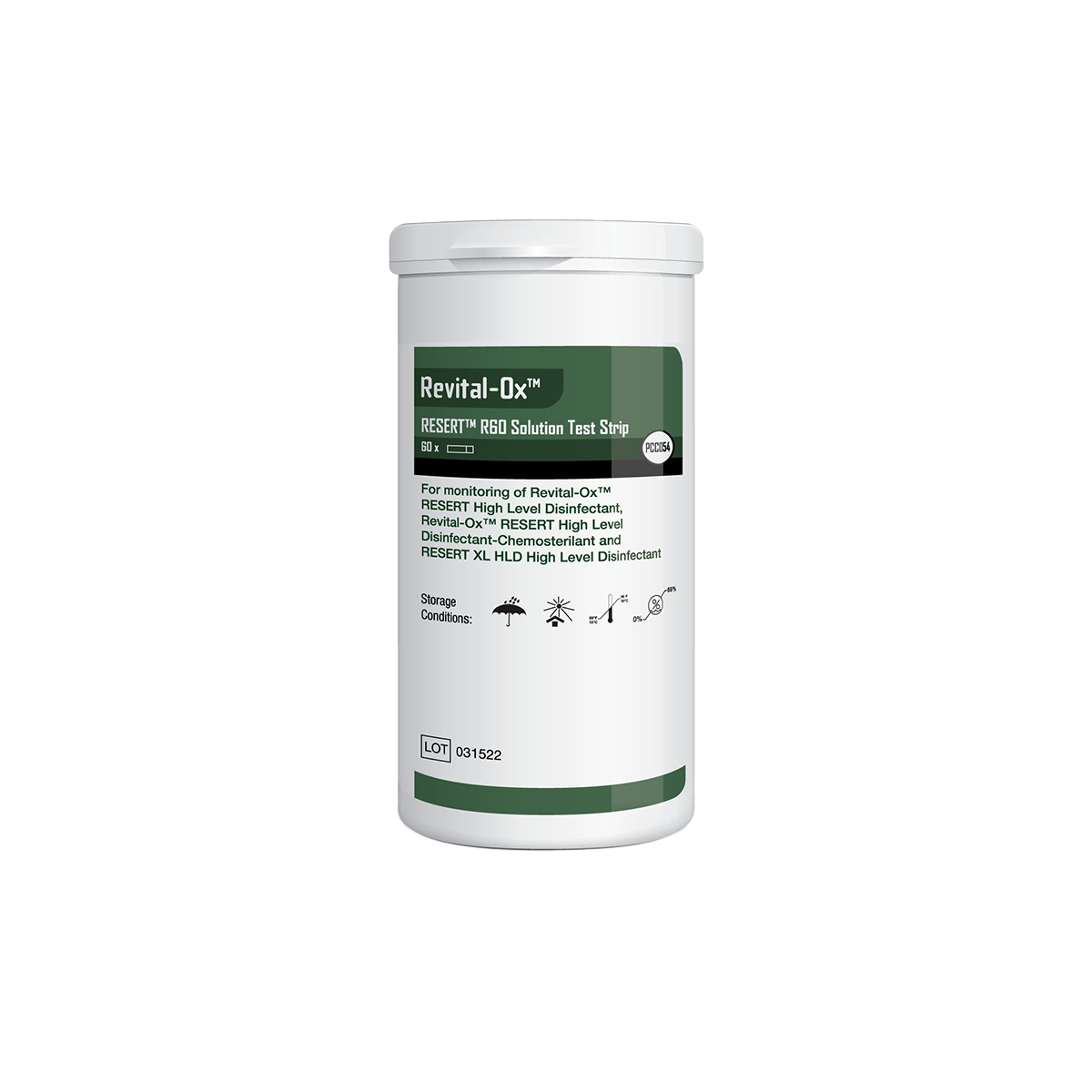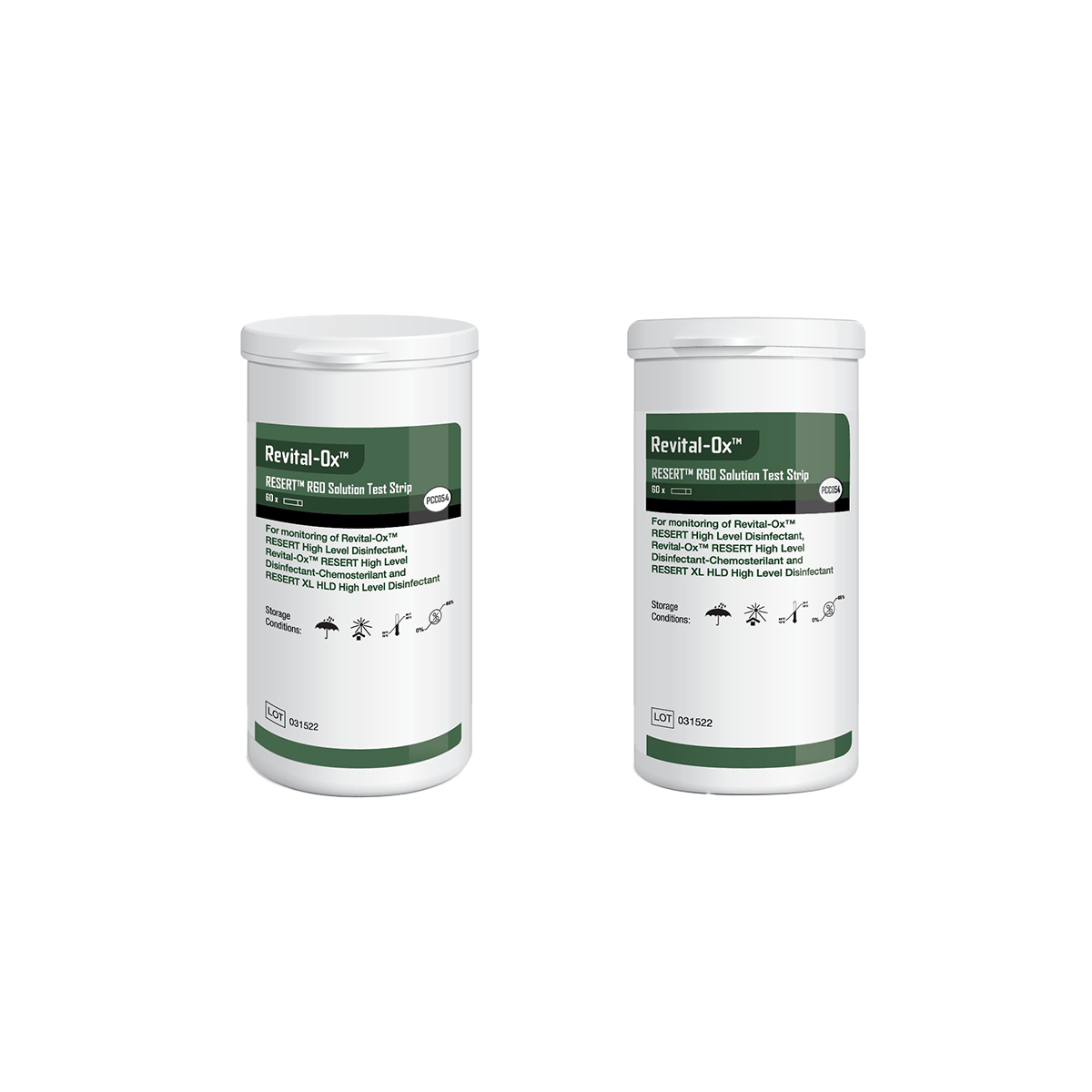 Product Information
Suitable For

SONO Hydrogen Peroxide Disinfectant: An effective one-step solution to cleaning and disinfecting. While some competitive cleaners can take up to 10 minutes to kill bacteria and viruses, this spray is formulated with patented hydrogen peroxide technology that kills microorganisms quickly on a broad range of surfaces in only 3 minutes for fast turnover in a business setting. This is over 3 times faster than leading brands, and is perfect for use on high-touch surfaces where germs can be easily transferred from person to person. It removes soap scum, grease and grime quickly and can be used on a variety of surfaces including fabrics that are composed of 100% cotton or 100% polyester. Perfect for use on objects such as mattresses, couches, drapes and cushions to stop the spread of infection-causing bacteria, or to remove smoke odors from fabrics. Test all surfaces in an inconspicuous area prior to use.


SONO Disinfecting Wipes: Engineered with a fast-acting, broad-spectrum, one-step, medical-grade cleaning solution, when used as directed, they kill a market-leading number of bacteria, fungi, and viruses with exceptional cleaning performance without high-levels of solvent that can cause wipes to dry out, destroy surfaces, and lose efficacy on the shelf.
They can be used to disinfect and sanitize a wide variety of hard surfaces, from medical equipment like ultrasound machines, to common items in your home and business, such as computer keyboards, door handles, floors and bathroom fixtures. You can also use them on gym and exercise equipment, as well as interior automobile surfaces.

SONO Foaming Hand Sanitizer: The CDC and FDA currently recommend the use of alcohol-based hand sanitizer for Covid-19, but recent studies have shown Benzalkonium Chloride (the active ingredient found in this product) to be just as effective with the added benefit of persisting for up to 4 hours as a cationic surfactant. This is unlike conventional hand sanitizer based on alcohol, which evaporates quickly and dries out your hands. Learn more here. Additionally, our formula is infused with a gentle moisturizer and all-natural bergamot oil, so not only do you not have to worry about it drying out your hands with frequent use, but you'll enjoy the therapeutic effects of a fruit used for centuries as a natural remedy to treat stress and a number of skin conditions without compromising on efficacy.
Directions

It is in violation of Federal Law to use these products in a manner inconsistent with their labeling.

SONO Hydrogen Peroxide Disinfectant:

To operate: To open, turn nozzle. Spray 6-8 inches from surface. Wipe with cloth. Do not breathe spray or mist.
General cleaning: Completely wet surface with product and wipe clean. No rinsing needed. For stubborn stains, heavily soiled areas or tougher jobs, allow product to penetrate dirt before wiping.
To clean and disinfect hard, nonporous surfaces: Spray 6–8 inches from surface until surface is thoroughly wet. Allow to remain wet for contact time listed on label, then wipe.
To sanitize soft surfaces*: Hold bottle upright 6–8 inches from surface. Spray until fabric is wet. Do not saturate. Let stand for 30 seconds. Allow to air-dry. Heavy soil must be removed prior to sanitizing. For first-time use on soft surfaces, spot-test in a small, inconspicuous area.

*Composed of 100% cotton or 100% polyester.

SONO Disinfecting Wipes:
To clean + disinfect + deodorize: Wipe surface with wipe until surface is visibly wet. Keep surfaces wet for 4 minutes. Allow surface to remain wet for 4 minutes. For Norwalk Virus, Feline Calicivirus, Norovirus and Rotavirus, treated surfaces must remain wet for 10 minutes. Let air dry. If surfaces are extremely dirty, clean first with another wipe before disinfecting. Discard used wipe in trash. Do not flush.

SONO Foaming Hand Sanitizer:
Apply a small amount onto hand, then spread on both hands. Rub hands together until dry.
Active Ingredients

SONO Hydrogen Peroxide Disinfectant:
Hydrogen Peroxide 1.22%, Other Ingredients 98.78%

SONO Disinfecting Wipes:
Octyl decyl dimethyl ammonium chloride 0.0909%
Dioctyl dimethyl ammonium chloride 0.0364%
Didecyl dimethyl ammonium chloride .0.0545%
Alkyl (C14, 50%; C12, 40%; C16, 10%) dimethyl benzyl ammonium chloride 0.1212%
Other Ingredients: 99.6970%
Total: 100.0000%

SONO Foaming Hand Sanitizer:
Benzalkonium Chloride 0.13%
Storage

For all products:Store in original container(s) in areas inaccessible to children. Keep securely closed. Nonrefillable container(s). Do not reuse or refill container(s). Discard empty container(s) in trash or recycle if available. Do not contaminate water, food, or feed by improper storage or disposal
Caution

Keep out of reach of children & pets.
Avoid contact with eyes, clothing, and mouth.
Spot test to check surface compatibility. (Disinfecting Wipes and Spray)
Wash thoroughly with soap and water after handling and before eating, drinking, chewing gum, using tobacco or using the toilet.
Not recommended for use on: Aluminum, painted wood, unfinished wood, sealed marble, sealed granite.
About Us

At SONO Healthcare, we are all about providing the best product and service not only for you and your family, but also your country and fellow citizens. We pride ourselves on restricting our supply chain to the USA to maintain the quality of our products and support American Industry. The suite of new regulations incurred by the geopolitically charged pandemic in which we all find ourselves has prompted massive layoffs and continues to maintain its downward pressure on our labor markets today across many sectors. Having fewer jobs available translates to reduced opportunity for everyone, andopportunityis the bedrock of this nation. This is why it is critical for all members of the domestic business community to do their part and help our country return to its previous capacity and even set new records.

The USA is the source of our supplies and home of our manufacturing facilities, all of which are compliant with any and all applicable regulations imposed by the EPA and FDA. In doing so, we support American jobsandmaintain the quality and efficacy of each and every product, making sure you receive the very best.

If you have any questions please email us at[team@sonohealthcare.com](mailto:team@sonohealthcare.com)
Still not sure? Contact us
Our Team is available 24/7 to answer your questions and provide the necessary assistance.